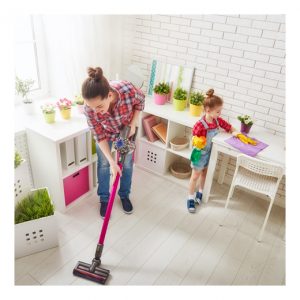 Many of us don't need a substantial push to swap harmful cleaning chemicals for less intrusive alternatives. Who likes dry, bleach-stained calloused hands anyway? As the dangers of indoor dust are well known, it's becoming apparent the invisible, long term effects of our daily cleaning habits, and lack thereof, can amount to terrifying heights of harm. A recent study that "…analysed 26 peer-reviewed papers, as well as one unpublished dataset, from 1999 onwards to examine the chemical make-up of indoor dust…" found nearly 90% of dust samples contained particles linked to cancer and infertility, as reported by The Guardian. These findings were due in no part to small sample size: "The studies covered a wide range of indoor environments, from homes to schools and gymnasiums across 14 states."
With the satisfactory appearance of Clorox's clean glaze over countertops and the refreshing scent of Febreze floating like a lazy cloud from one room to the next, just when our homes seem cleanest, we may actually be most vulnerable. Altering what you buy, from harsh chemical cleaners to safer alternatives, isn't the only thing you can do to curb indoor pollution, and doesn't account for much of the problem. Your clean home houses hidden hazards.
The problem of indoor pollutants may appear at first glance counterintuitive. How could vanquishing bacteria, viruses, and who-knows-what-else from dirty floors and countertops, bathrooms and kitchens, ultimately harm us? Your everyday cleaners aren't particularly handy for the real problem. The issue is that some chemicals in our couches and mattresses, our vinyl flooring and carpeting, contain flame retardants, known to cause cancer, affecting the reproductive and nervous systems, and phthalates, found in personal care products and food packaging, which "have been linked to developmental problems in babies, hormone disruption, and are also thought to affect the reproductive system."
These chemicals, especially when imprisoned in a house on lock-down for the winter, can accumulate and mingle with dust in your home. "The researchers highlighted 45 toxic chemicals in indoor dust, 10 of which were present in 90% or more of the dust samples – these included flame retardants, fragrances and phenols." As The Guardian points out, these chemicals, though banned in some products, like bottles and diapers, may not be banned in others, like walls and flooring.
But this isn't a matter to just throw up our hands over, declaring all proactivity hopeless and ineffective. Singla, from the Environmental Science and Technology journal, writes there are steps we can take to reduce exposure to this toxic dust. One key is, when you are performing regular cleaning duties like wiping off the counters or sweeping, don't tackle these tasks with dry brooms or paper towels. Use damp mops and cloths to reduce levels of dust. Whereas merely dry materials might kick the dust back in the air, damp materials will cause the dust to clump and aggregate. Also, vacuum regularly, as the suction disposes of the toxic dust in its container. And, of course, activism, to demand accountability, is the surest way to reduce exposure to these chemicals.
Although the problem of indoor pollution is extremely concerning, it's in your power to reduce exposure. Besides changing the way you clean your home, you can also purchase plants, which help reduce indoor pollution by cleaning the air you breathe. And don't be afraid to open up your windows when the days are brilliant, and the soft breeze of spring warmly soothes the plants and animals, blooming and bustling outside, stirred by the chance to enter your home like an old, visiting friend.
https://www.apartmentsforus.com/wp-content/uploads/2017/04/Conquer-the-Toxic-Dust-Hidden-in-Your-Home.jpg
520
520
admin
http://www.apartmentsforus.com/wp-content/uploads/2014/12/A4US11.png
admin
2017-04-11 12:55:38
2017-07-25 12:37:40
Conquer the Toxic Dust Hidden in Your Home