Don't Fall for the Fruit Juice Trap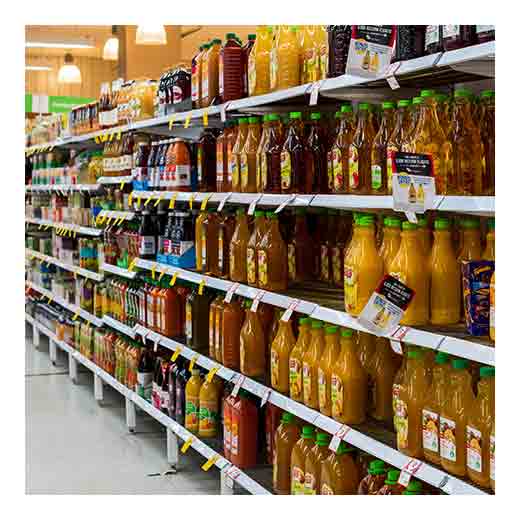 As carbonated, sugary drinks fall out of favor with the public, fruit juices and fruit smoothies are on the rise. Whereas sugary soft drinks have been linked to obesity, squeezed fruit can't be unhealthy, right? The logic is pretty simple: people believe fruit juices are equivalent to the serving sizes of a few piece of fruit, contain real fruit sugar, and have about the same effects as eating fruit. Unfortunately, this wrong in every case. In fact, the same scientists who blew the whistle on corn-syrup in soft drinks are ringing the alarm bell again.
In his interview with The Guardian, the scientist Barry Popkin warns us against the myth  that a glass or two of fruit juice is equivalent to one or two pieces of fruit:
"Think of eating one orange or two and getting filled," he said. "Now think of drinking a smoothie with six oranges and two hours later it does not affect how much you eat. The entire literature shows that we feel full from drinking beverages like smoothies but it does not affect our overall food intake, whereas eating an orange does. So pulped-up smoothies do nothing good for us but do give us the same amount of sugar as four to six oranges or a large coke. It is deceiving."
Indeed, because fruit juices contain little-to-no fiber, you don't feel satiated after drinking them. According to Susan Jebb, a government advisor and head of the diet and obesity research group at the Medical Research Council's Human Nutrition Research unit at Cambridge University, "Fruit juice isn't the same as intact fruit and it has as much sugar as many classical sugar drinks. It is also absorbed very fast, so by the time it gets to your stomach your body doesn't know whether it's Coca-Cola or orange juice, frankly."
But that's not all. Barry Popkin continues,
"The most important issue about added sugar is that everybody thinks it's cane sugar or maybe beet sugar or HFC syrup or all the other syrups but globally the cheapest thing on the market almost is fruit juice concentrate coming out of China. It has created an overwhelming supply of apple juice concentrate. It is being used everywhere and it also gets around the sugar quotas that lots of countries have."
Disturbingly, "Popkin and colleagues found that fruit juice concentrate was the fifth most common sugar overall and the second most common, after corn syrup, in soft drinks and in babies' formula milk." And, "all the long term studies on fruit juice in anything show the same kind of effect whether it's a smoothie or natural [juice] and whether it's a diabetes or weight gain effect," Popkin added.
As The Guardian reports,
"Researchers from the UK, USA and Singapore found that, in large-scale studies involving nurses, people who ate whole fruit, especially blueberries, grapes and apples, were less likely to get type 2 diabetes, which is obesity-related, but those who drank fruit juice were at increased risk. People who swapped their fruit juice for whole fruits three times a week cut their risk by 7%."
So don't fall for the fruit juice trap and don't believe the hype that it's a good addition to a balanced meal. At least, not all juices are created equal. Be sure to conduct thorough research before you make up your mind as to whether fruit juice will find its way into your fridge.
http://www.apartmentsforus.com/wp-content/uploads/2018/08/Dont-Fall-for-the-Fruit-Juice-Trap.jpg
520
520
admin
http://www.apartmentsforus.com/wp-content/uploads/2014/12/A4US11.png
admin
2018-10-15 08:00:57
2018-08-20 13:50:47
Don't Fall for the Fruit Juice Trap